Tripawds is a user-supported community. Thank you for your support!
Hello 🙂 Just wanted to give an update since we are a bit snowed in here. Shelby got her stitches out a few days ago and the doc is super pleased with how well she is doing and how well she is healing!! She still has a few spots that are healing but her site is looking good otherwise.  I think Shelby is just as excited to have the stitches out as we are, lol.
On Monday evening, we took her for her first round of chemo.  Her first dose was, Adriamycin (aka doxorubicin). We chose to hold her food til after her injection cause the doc told us she may vomit right after getting her meds. We didn't have any issues Monday evening, and even gave her a little bit of food once we got her home. I was surprised at how fast he gave the medicine to her. When we went thru chemo with our last lab, who had mass cell tumors, it was a lengthy process that took a few hours for the IV to drip. He did tell us that her next med dose would be in two weeks and it would be cisplatin this time. He intends to alternate the two drugs.  Below is a pic taken the evening before we left to go to her first chemo treatment. She always gets so excited to go bye-bye's, even when its to the vets office, whom I might add have taken a real liken to her. They all spoil her with love when she gets there since she has become such a frequent visitor, lol.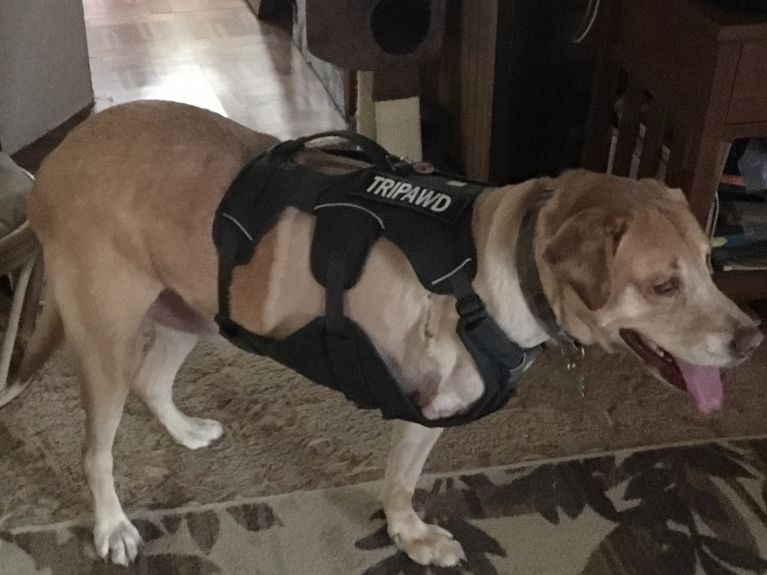 I will say, everyone in the docs office, raves about her harness!!! The doc, the techs, they couldn't say enough great things about it. They like how easy she is to help and how much easier it is to handle her with it on, they even comment about how much added support there is with the "skidplate" as I call it, lol! They always take the pets on leashes and with her, they didn't even bother, they were that comfortable and happy with the harness to just use it!Kudos to Tripawds for such a remarkable addition for these lovely furbabies <3 <3  I chose to add the emblems, because I am a little bit of an overprotective furmomma and don't want anyone bumping into her and knocking her off balance, so I figure, they can see the warning just in case they don't notice her beautiful uniqueness 🙂
The day after her meds was a little sketchy 🙁 It wasn't as rough as I am sure some have had it so I am very grateful for that. She was tired and didn't want bothered much Tuesday. I gave her food a little earlier than normal after not giving her much the day before and sadly, while she didn't vomit, you could see her poor belly wrenching like she wanted to 🙁 🙁  Her potty breaks were normal and we didn't have any issues with those so I will take any little thing we can get, lol. We are on day 2 of post treatment and she seems to be trying to get her spunk back, just isn't quite there yet.
Doc plans to do bloodwork next visit prior to treatment, to ensure her levels are handling the chemo ok. He also said the next visit will be a little longer due to the med requirements.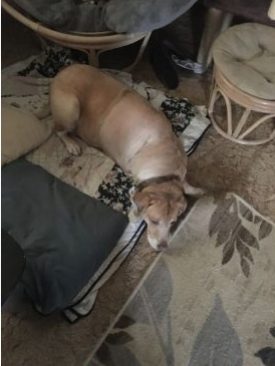 Picture above is from Tuesday morning, she wasn't feeling up to much 🙁
Well, that's about it for now. Time to go enjoy my little superhero for a bit 🙂
Tail wags and kisses for now <3